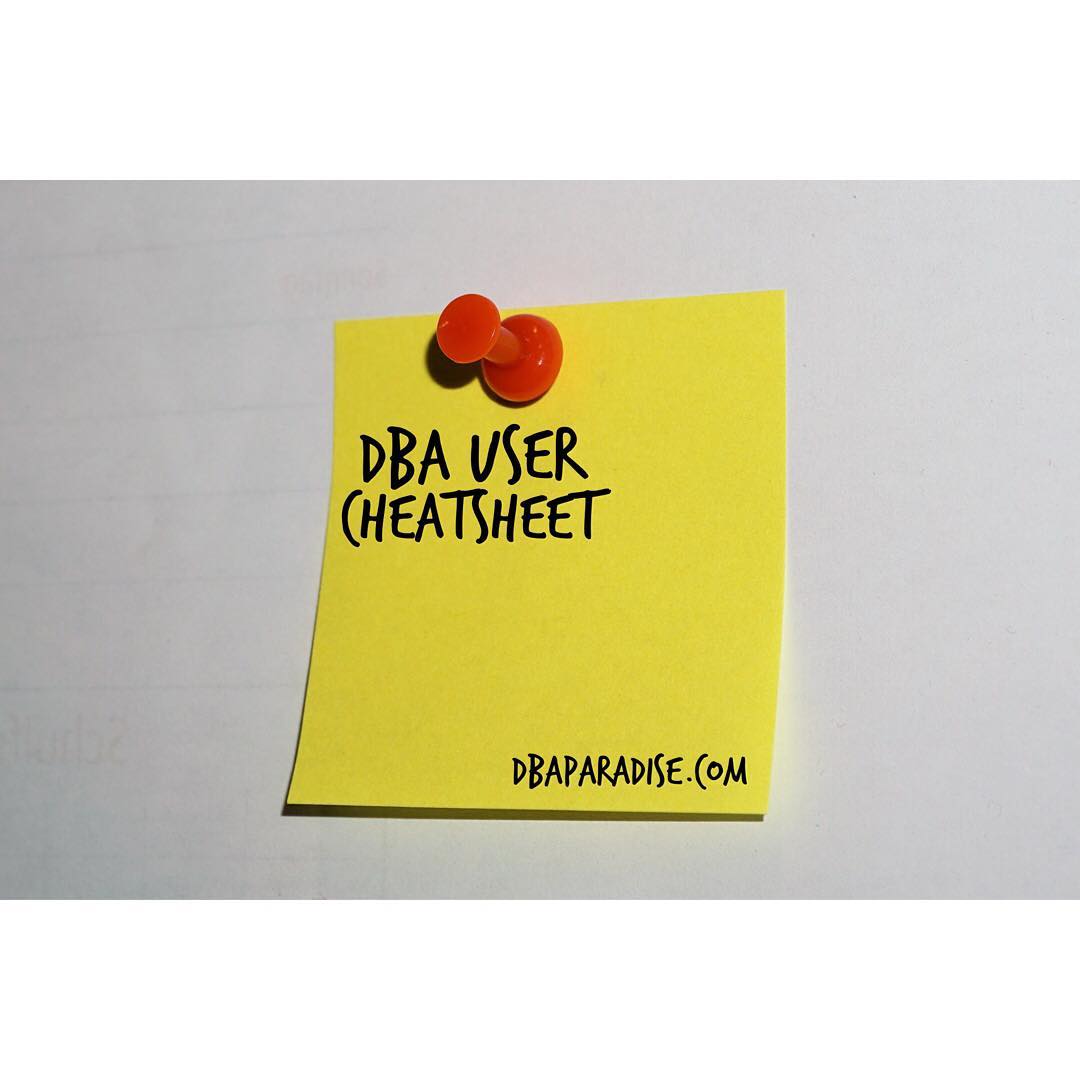 Oracle User CheatSheet – Look Like An Expert, Even If You Are A Junior DBA

Have you ever found yourself in a situation where you quickly had to figure out specific information about an Oracle User, while someone was looking over your shoulder? And you had no GUI tool to quickly do so? If this happened to you, you are not alone.
When you are under pressure, the likelihood of remembering the right column name of a DBA view, or even the DBA view name, is very unlikely. You start searching on the net for info, and start wishing you had installed SQL Developer for free (when you had the chance) to help you out right now.
No more searching and wishing, as I have the solution for you.
How to look like and EXPERT, and get all the information you need about an Oracle User, even if you DREAD the command line and you're a junior DBA!
Did I get your attention?…
WHAT do you need to know about an Oracle User?
Common Things:
– username
– created date
– account status
– expiry date
– default tablespace
– temporary tablespace
– last login date – This is an AWESOME feature available in 12c only.
– profile
Not So Common, And Very Important:
– tablespace quota for the user
– grants: role grants, system and object permission grants
– audit information, such as: is auditing turned on for the user, and if yes, what is audited.

Oracle DBA Views To Familiarize Yourself With:
DBA_USERS
DBA_TS_QUOTAS
DBA_ROLE_PRIVS
DBA_SYS_PRIVS
DBA_TAB_PRIVS
DBA_OBJ_AUDIT_OPTS
DBA_STMT_AUDIT_OPTS
It is worth spending the time to learn the information contained in these views.
Your Oracle User Cheat Sheet is here! Print It, Save It, Share It..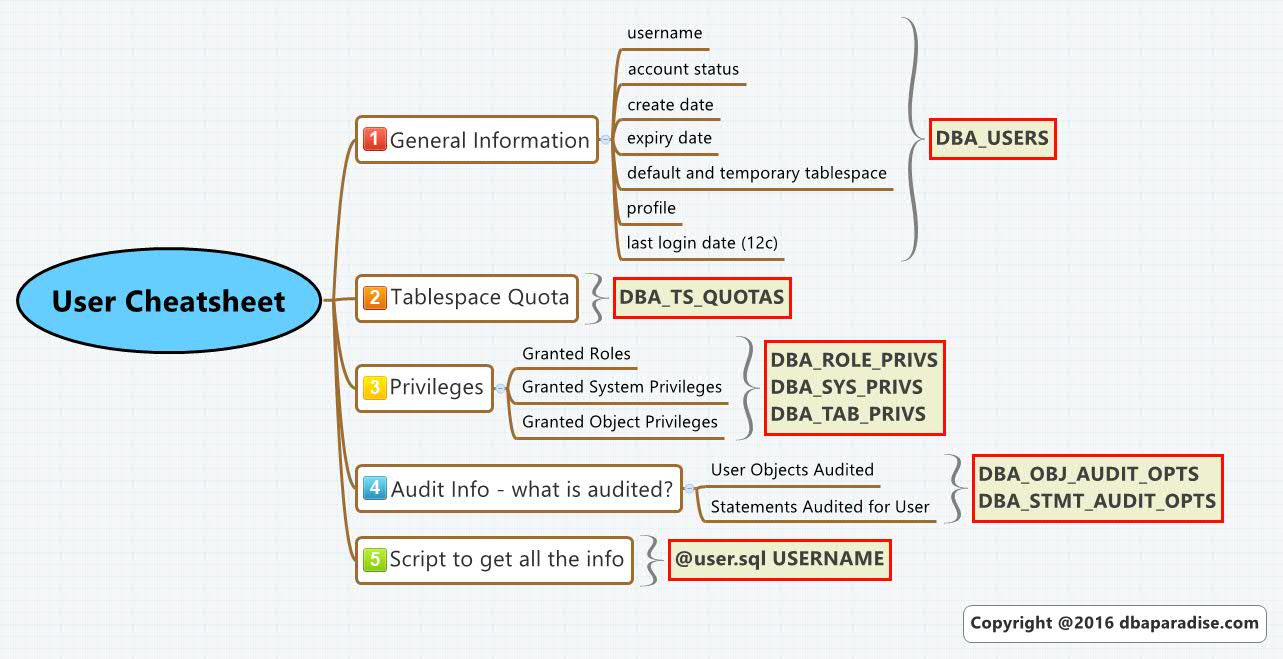 To become an AWESOME DBA, you need to grow your script collection.
The script I am attaching here, puts together everything we talked about. No need for GUI, just use sqlplus, which is available everywhere. In one second you get all the info you need at the press of a button!
Get the Oracle User Script here:
/*
Script name: user.sql
 
Example:     @user.sql DROBETE
 
Created By   Diana Robete
Copyright:   @2016 dbaparadise.com
*/
 
set define '&'
set verify off
set feedback off
 
define _username=&1
 
col username  for A10
col status for A10
col default_role for a7
col grantee for A20
col privilege for A30
col expiry for A15
col def_tbs for A20
col temp_tbs for A20
 
 
set linesize 180
set pagesize 100
 
Prompt 
Prompt User info for &_username
 
select username, account_status status, expiry_date expiry, created, default_tablespace def_tbs, temporary_tablespace temp_tbs, profile 
--last_login      --awesome 12c feature only
--common          --12c only
from dba_users where upper(username)=upper('&_username');
 
 
Prompt 
Prompt User Quota
 
select tablespace_name, bytes/1024/1024/1024 GB_USED_BY_USER, max_bytes/1024/1024/1024 GB_USER_QUOTA 
from dba_ts_quotas where upper(username)=upper('&_username');
 
 
Prompt
Prompt User Permissions
 
break on typ on grantee
 
select  'ROLE PRIVS' type,
         grantee grantee,
         granted_role privilege,
         admin_option ad,
        '--' table_name,
        '--' column_name,
        '--' owner
from    dba_role_privs
where   grantee=upper('&_username')
union
select  'SYSTEM PRIVS' type,
         grantee grantee,
         privilege privilege,
         admin_option ad,
        '--' table_name,
        '--' column_name,
        '--' owner
from    dba_sys_privs
where   grantee=upper('&_username')
union
select  'TABLE PRIVS' type,
         grantee grantee,
         privilege privilege,
         grantable ad,
         table_name table_name,
        '--' column_name,
         owner owner
from    dba_tab_privs
where   grantee=upper('&_username')
union
select  'COLUMN' type,
         grantee grantee,
         privilege privilege,
         grantable ad,
         table_name table_name,
         column_name column_name,
         owner owner
from    dba_col_privs
where   grantee=upper('&_username')
order by 1;
 
 
Prompt
Prompt Audit information
 
select * from dba_obj_audit_opts where upper(owner)=upper('&_username') order by object_name,object_type ;
select * from dba_stmt_audit_opts where upper(user_name)=upper('&_username') order by audit_option;
Sample Output:
SQL>@user.sql DROBETE
 
User info for DROBETE
 
USERNAME   STATUS     EXPIRY          CREATED    DEF_TBS              TEMP_TBS             PROFILE
---------- ---------- --------------- ---------- -------------------- -------------------- ------------------------------
DROBETE    OPEN       2016-05-21      2015-12-20 USERS                TEMP                 DBA_PROFILE
 
User Quota
 
User Permissions
 
TYPE         GRANTEE              PRIVILEGE                      AD  TABLE_NAME                     COLUMN_NAME
------------ -------------------- ------------------------------ --- ------------------------------ ------------------------------
ROLE PRIVS   DROBETE              USER_CONNECT                   NO  --                             --
ROLE PRIVS                        DBA                            NO  --                             --
SYSTEM PRIVS                      SELECT ANY DICTIONARY          NO  --                             --
SYSTEM PRIVS                      UNLIMITED TABLESPACE           NO  --                             --
 
Audit information
 
USER_NAME                      PROXY_NAME                     AUDIT_OPTION                             SUCCESS    FAILURE
------------------------------ ------------------------------ ---------------------------------------- ---------- ----------
DROBETE                                                       DELETE TABLE                             BY ACCESS  BY ACCESS
-Diana